Rubber Cable
This site is a comprehensive guide to rubber cable. It contains information regarding its application, features and technical information as well as a glossary of terminology for rubber cables.
There are many different cables that are used for a vast variety of different uses. In this site we detail 9 individual rubber cables – H05RR-F, H05RN-F,HO7RN-F, H07ZZF, H01N2-D, NSSHOU, NSGAFOU, NSHXAFO, H07RN8-F.
Rubber cables vary from the lightweight and for standard application, to more robust and for roles under more duress. These tough yet flexible rubber sheathed cables all conform to CENELEC specifications (European Committee for Electro Technical Standardization). These regulation standard rubber cables are ideal for use in indoor, outdoor, damp or wet conditions. The H05RR-F, for example, is ideal for lightweight hand and workshop tools whilst the H07RN-F is more suitable for increasingly higher levels of stress and heavy duty equipment.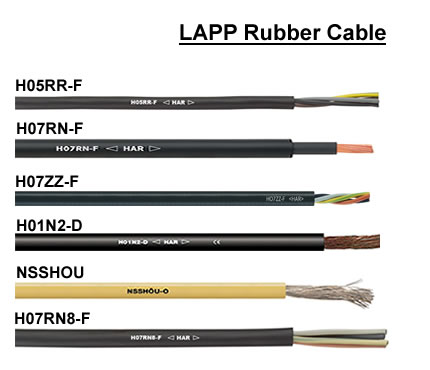 Rubber Cables Products
H05RR-F – Lightweight rubber sheathed cable.
H07RN-F – Heavy duty chloroprene sheathed cable.
H07ZZ-F – Low smoke halogen free rubber cable.
H01N2-D – Rubber sheathed welding cable.
NSSHOU – Mechanically robust rubber sheathed mining cable.
H07RN8-F – Submersible pump cable for temporary use in water down to 10 metres.
These cables are also known by industry names such as harmonised cables, PVC cables, hi-temp cables, hi-volt cables, festoon cables, neoprene cables, crane cables, torsion cables or lift cables.